The age of the networked economy is upon us, and with it, comes a slew of issues for leaders to address in their organizations. Digital, network-enabled technology has been sufficiently positioned in the center of many human interactions, from personal relationships to complex economic structures. This near ubiquity (at least in the modernized countries of the world) has led to new ways of interacting with co-workers, sharing information, and understanding power.
A fundamental advantage of a connected workforce is productivity and collaboration. Weinberger (2011), among scores of others, asserts that networks can generate larger quantities of quality innovation than any single (so called) expert. Information can be brought to bear from all corners of humanity and analyzed by individuals with limitless perspectives and life experiences. In my opinion, however, this broad assertion fails to account for the a broad socioeconomic heterogeneity of internet users.
Internet Live Stats (2016) estimates that only 40% of the world's population has access to the internet, up from less than 1% in 1995. The same site shows that in contrast, nearly 89% of those living in the US has access to the internet (in some form). My point here is that there is still a significant part of the globe that is not yet connected (or as connected) as we might believe. And those of us that are connected – despite contentious Facebook arguments in the last 6 months – are living lives that are more similar to one another than different. I think this is important in the discussion of globalization and the connected global workforce. Like all forms of communication, digital communication is subject to all sorts of cultural norms, biases, and media literacy. I think it's important to understand just how different our experience of connectivity are from a majority of the rest of the world's.
That said, it is very evident that even within the more "mature" user base of, say, the United States, there are still huge gaps in levels of experience, proficiency, and digital fluency. In a multi-generational digital workforce, it may be critical for leaders (titular or otherwise) to assist team members with limited technology experience or lower levels of proficiency. In this way, I think the leader continues to shoulder the burdens of facilitating learning beyond the content of the work. Teaching/implementing technology, I think, presents an important opportunity for developing organizational culture. That is, how are employees taught to use technology in their roles, how are norms and expectations communicated, and how do co-workers deal with each other in light of digital acculturation (Jarc, 2015).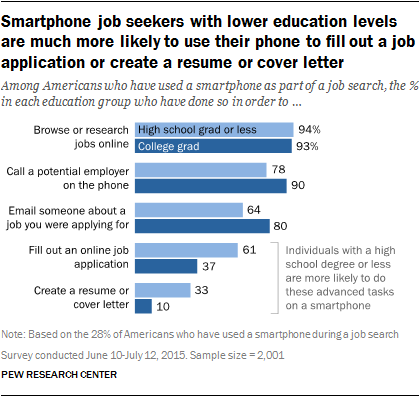 In this same sense, digital workers may use the same tools very differently. The information presented by Smith (2015) illustrates a few of the ways in which different users manipulate their digital experiences. For example, Smith outlines the differences between smartphone users who execute job applications on their devices and those who are using smartphones for "analog" tasks like calling (I mean really, who even does that anymore?!). Importantly, users across the spectrum expect different things from themselves and their technology. This can cause problems in networked teams, when individuals want or need to communicate in dramatically different ways. So, even if we are connected, we are connected in different ways.
Finally, I think the broadening of the networked workforce raises interesting questions about the nature of power and how individual nodes within the network make sense of relationships with others. Husband's (n.d.) definition of wirearchy addresses part of this question. For Husband, power in the network is "a dynamic two-way flow of power and authority, based on knowledge, trust, credibility and a focus on results, enabled by interconnected people and technology" (para. 8). I think that this is a fine definition of a self-governing structure, but I wonder if this definition can play all the way through the end of the human transaction. As a colleague points out in her blog this week, sometimes teams need someone who can overtly assert power, make a decision, and drive teams out of counterproductive ruts. In terms of the networked workforce, with its heavy reliance on tech, does the best, most proficient tech user assume this role? If I can, say, type faster, or produce reports more quickly or research more efficiently, will others begin to look to me as the leader of the networked team? For me, this discussion of perceived power is an incredibly important one, and one that I will certainly continue thinking about!
References:
Husband, J. (n.d.) What is wierarchy? Wirearchy [website]. Retrieved from http://wirearchy.com/what-is-wirearchy/
Internet Live Stats (2016). Internet users [webpage]. Retrieved from http://www.internetlivestats.com/internet-users/
Jarc, J. (2015). Parlance, perception and power: An inquiry into non-standard language use in digital media (master's thesis). Retrieved from Proquest: http://search.proquest.com/docview/1684659688
Smith, A. (2015, November 19). Searching for work in the digital era. Pew Research Center. Retrieved from http://www.pewinternet.org/2015/11/19/searching-for-work-in-the-digital-era/
Weinberger, D. (2011). Too big to know: Rethinking knowledge now that the facts aren't the facts, experts are everywhere, and the smartest person in the room is the room. New York: Basic Books.